Profile
INA-LAC Business Forum is the first ever milestone initiated by Ministry of Foreign Affairs of the Republic of Indonesia in bringing and facilitating economy-centric cooperation between Indonesia - Latin-America and theCaribbean (Latam/Car) countries.
Goal: The INA-LAC Business Forum initiative focuses not just to increase public and stakeholder awareness, but also to mitigate various challenges, such as geographical distance, connectivity, as well as tariff and non-tariff barriers, striving for mutual economic cooperation. The forum was manifested from and of objective in line with President Joko Widodo's directive command to boost Indonesia's diplomatic and economic relations between Indonesia and the region.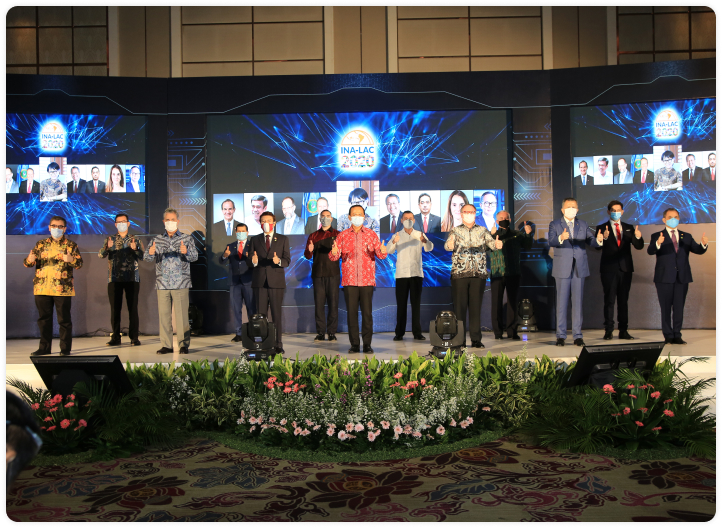 Overview
INA-LAC Business Forum's agenda covers Indonesia's relations with 33 countries in Latin America region and the Caribbean Islands; economy and trade relations in particular.
Latin America and Caribbean, as one of the fast-growing regions of developing countries in the world with total GDP* of USD 5.78 trillion, possesses great market potential for Indonesia and its industry players to partner up and achieve both mutual and sustainable business relations henceforth. Current prospective trade goods between Indonesia and Latam/Car countries vary from biofuel, textile, automobile and spare parts, metal and steel, aluminium, wooden goods, chemical products, paper, to jewelry
INA-LAC Business Forum in 2020
Firstly established in 2019, the second INA-LAC Business Forum hasbeen held in hybrid format. It has successfully drawn bigger enthusiasm with more than 500 businesspersons and stakeholders participated from Indonesia and Latin America and the Caribbean. Amid the pandemic, the event has generated business deals amounting to US$ 71.02 million and the potential deals as much as US$ 14.36 million. This value is more than doubled compared to the first year's business deals (around US$ 33 million).
Taking into account the possibility of continuing effect of the pandemic, the third INA-LAC Business Forum in 2021 will be likely held in hybrid forum as in 2020. The online exhibition will continue to be held through the platform along with both virtual or in presence business meeting. It will be preceded by a series of pre-event seminar which involving stakeholders from both regions.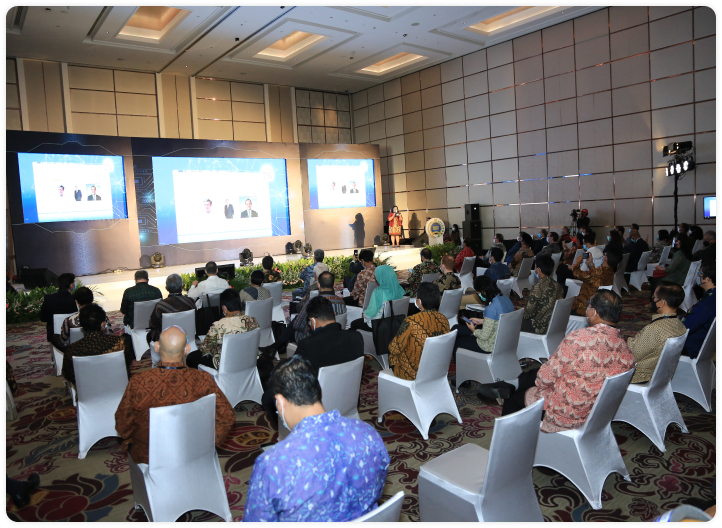 INA-LAC Business Forum in 2021
INA-LAC Business Forum 2021 yielded US$87,96 million (IDR 1,23 trillion) Business Deal, consist of signed business deal US$19,08 million (IDR 268,74 bn) and business commitment US$68,88 million (IDR 969,92 bn). Moreover, 37 business meetings had been held as the facilitation of the INA-ACCESS digital platform.

The business deals originate from several countries in Latin America and Caribbean as follows:  Brazil USD 6.320.072, -, Dominican Republic USD 4 million, Suriname USD 3 million, Guiana USD 3 million, Chile USD 2.4 million, Panama USD 260.000, Jamaica USD 70.632, and Mexico USD 35.000. Meanwhile, a number of business commitments have been negotiated such as: food and beverage products valued USD 68.505.000, -, spices USD 240 thousand, furniture, USD 92 thousand, footwear USD 45 thousand.

Foreign Minister has launched the digital platform for export and investment enhancement in INALAC 2021. The platform aims to bridge business interaction and communication through virtual permanent exhibitions displaying more than 400 prime export products from 800 exhibitors, of which the 50% among them are Small and Medium Enterprises (SMEs).

INA-LAC 2021 organized by the contribution of Ministry of Foreign Affairs of The Republic Indonesia with Ministry of Trade of The Republic Indonesia, Ministry of Investment of The Republic Indonesia, Ministry of Religion Affairs of The Republic Indonesia, Ministry of Industry of The Republic Indonesia, Ministry of State-Owned Enterprises of The Republic Indonesia, Ministry of Education and Culture of The Republic Indonesia and Indonesian Central Bank.